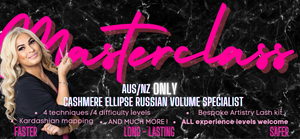 ⚠️CUSTOMERS PLEASE BE ADVISED WE ARE AWAY UNTIL JULY 25TH. ALL ORDERS ON PAUSE⚠️
Did you know that there is ANOTHER alternative to Russian Volume you are unaware of?
You've found us!! The Lash Industry's BIGGEST secret!
Welcome to Seriously Lashes Academy
Australia and New Zealand's PREMIER leaders in Flat Based Russian Volume! YES!! YOU HEARD THAT RIGHT!! Not heard of this revolutionary technique? NOT SUPRISING! We certainly are unique.. and VERY SPECIAL!
Its all in the science you see... Weights are EVERYTHING in our lash industry. In order to provide our clients with their lash dreams and desires... we NEED less restrictions. Sadly, without using Cashmere Ellipse Lashes... We can only go so long or so full until we jeaopardise lash health. This also means... Putting our income and/or reputation at risk also
HOWEVER.. for over half a decade Seriously Lashes has been working tirelessly to create, provide and teach the evolutionary methods of Russian Volume with flat lashes. Flat Lashes were introduced MANY YEARS AGO as a 'Classic Lash' yes, but you see... they have now evolved to much thinner diametres, softer, lusher, darker and FLUFFIER than we could have EVER imagined!
The weights and research can confirm that as Cashmere Ellipse Russian Volume is 60% lighter on average... it is officially a SAFER and HEALTHIER alternative to the average silk/faux mink (round base) form of Russian volume. Not to mention, the retention is EXTRAORDINARY
Because of this evolutionary technique... Seriously Lashes Cashmere Ellipse Russian/Mega Volume Classes are in high demand ALL OVER AUSTRALIA and now INTERNATIONALLY!
STAND OUT FROM THE REST and enroll with us today. We guarentee... YOU WILL NOT regret it. DO NOT MISS OUT on this oppertunity to expand your business and increase you income
Our store
18 Mount Daguilar Crescent
Algester, Brisbane 4115
Mon - Fri, 8am - 5pm
Same day shipping on all orders before 3pm AEST
 Pick up available.